Let's get back to basics.
Uncompromising miniaturization with 'point by point' wire cabling, specially selected components, oversized transformers, a sturdy format made of thick steel, simple no-nonsense buttons, an unusual architecture for this character-filled amplifier.
The Classic 18 is the new Sabelya® 's Boutique Amplifier reference that you'll find in the Store.
Whilst waiting for the demo, here are some sound bites of the older models.
Video : Marc Guillermont 
Vol (Amp personality with drive and 'trunk' as you push this setting)
Tone
Master (a 'true' Master dual pot, just before the Tube Amp section)
Options
Effects Loop
XLR Line Out with Sim Cab
Very useful on stage or for a recording session (use with or without a Cab)
8 ohm Speaker Out
Impedance can be adjusted to your Speaker specifications

Specs : Type Class AB (Bias Auto) – 20 watts – Tubes 2x ECC83 et 2x EL84 – (23 x 12 x 18) cm – 4kg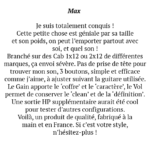 Comment (leave us your first name)