A phenomenal sound..!

Originally custom-made and in small series for recording studios or celebrities in the 70′, the Dumble amps quickly became inaccessible. Alexander "Howard" was obsessed by one idea, the quest for Tone !
A legend was born.
Dumble Boost is a Twin channel Overdrive Boost, with the soft and creamy tones of tube amps, when all you want to do is plug in and let it sound !
You won't find any of the usual settings of an overdrive pedal because you won't need them.
From delicate Crunch to addictive Dumble-like Overdrive, plug and play.
Videos : Mick Ravassat, Alex Bruno
Channel 1 (Vol trimmer)
Channel 2 (Vol trimmer)
An additional adjustment (located under the box) allows to adjust the Channel 2 Gain , Boost or Overdrive, it's up to you.

Specs : Transistors & AOP – True Bypass – 9 volt – (11 x 6 x 5) cm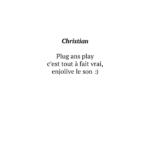 Boutique Pedals for Guitar & Bass - Handmade in France

Comment (leave us your first name)