Bitoun ? You owe to know this man!
Julien Bitoun ' is a guitar player (maybe the best in the world 😉 ), fan of Rock music, journalist , writer and teacher. You may know him as the author of Guitars & Heroes, Strange Brew and more recently Woodstock.
www.facebook.com/julienbitounperso
www.julienbitoun.com
Bitoun made 3 albums of instrumental music and cover of Blues tunes. Then he set up a new band, called The Angels.
In this project, his creativity needed a new tool. Signature We made it for him.
Julien will introduce it better that we would !
The Bitoun Electric Flower consists of 3 separate channels, as well as a specific 'Bypass' option that is discussed in the video.
Overdrive type 'Klon Centaur'
   Vol
   Drive
   Tone
Clean Boost
   Boost
Filter type 'fixed Wah'
   Freq (Mid Filter)
Bypass' feature
   BP (manual switch which keeps the overdrive channel active regardless of the state of the dedicated footswitch)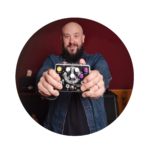 Specs : AOP, diodes Germanium, Transistors, Inductor – True Bypass – 9 volt