All we need is Fuzz !
For Guitar & Bass
This is a fun and addictive little pedal which respects the 'colour' Fuzz of your instrument.
Soft sound with compressed notes which bounce out as soon as you've played them, even in the spirit of a brass instrument, Fuzzmarine you are going to like it, for sure !
1st video, extract 1'30" and 2'30", Little Fuzzmarine in 'Crackle' mode, really fun !
Check out the whole video, with the 'Overdrive Super 4558.
Videos : Olivier Louvel, Zannalee
V (Vol)
G (Fuzz Gain) - Crackle okay !
Switch (choose between Crackle & Standard Mods)
Option :
Version B (if you need battery power supply capability)
Specs : Transistors Silicium– True Bypass – 9 volt (5mA) – (11 x 6 x 5) cm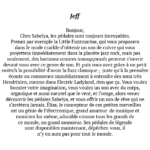 Boutique Pedals for Guitar & Bass - Handmade in France

Comment (leave us your first name)