An explosion of creativity !
"For Olivier Louvel, music is about opening your mind and travel. He's travelled the world, from Indonesia to Namibia, Ecuador to the Arctic landscapes, eager to discover the music, peoples and suns."
Daniel Yvinec
Born in Caen, the guitarist has worked with hundreds of artists and released five albums of his own, ever increasing his musical scope.
His impressive mastery of the instrument, which is light years away from the autism of certain Jazz styles, allows him to reinvent folklore.
So, why 42 ?
Olivier holds the key, so ask him yourself when you meet him.
Videos : Guitare Garage
Mix (Dry/Wet)
Wave (Feedback needed when the Pad is On)
PAD (momentary Footswitch, 'echo' or 'freeze' effect)
A Trimmer (located inside the box) sets the Reverb 'hold time' once the PAD is released
Mode Mono
   IN1
> main use on 1 Amp, with OUT1
> picture sound's enlargement on 2 Amps, with OUT1 + OUT2
Mode Stéréo
   IN1 + IN2
> picture and depth sound's enlargement on 2 Amps, with OUT1 + OUT2
Specs : Accutronics Belton, AOP – 9 volt (70mA) – (10 x 10 x 6) cm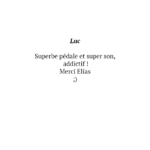 Boutique Pedals for Guitar & Bass - Handmade in France

Comment (leave us your first name)