A serious modern Distortion
386 micro Chip
Integrated amplifier which, alone, can spit out several hundred milliwatts of power on a 8 ohm charger.
Ideal for building a portable battery-powered amp, and repurposed here to deliver tones for Hard Rock, Heavy & Metal.
To make the little beast more fun, we've added a classic tube amp 'EQ .
Videos : Allan
Gain
Bass
Mid
Treble
Vol
Gate (Trimmer located on the underside of the stomp-box, acts as a noise-gate)
The micro chip that truly 'drives' this pedal is visible from the outside and is connected to the rest of the circuit via an aluminium housing. The originality of this design in no way challenges the quality and durability of the product.
Specs : Audio Amplifier LM386, Preamp Transistor – True Bypass – 9 volt – (11 x 6 x 5) cm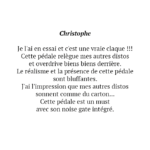 Boutique Pedals for Guitar & Bass - Handmade in France

Comment (leave us your first name)