Sultans of Swing, standard bearer of guitar compression ?
For Guitar & Bass
The 'Old school' optical analog compressor
Ingenious electronic circuit based on 2 photoelectric cells and one low-noise amplification component, which gives a transparent and natural compression, with that little magical 'sag' that you find mainly on Tube amps.
Resolutely vintage, Get Funky ! 🙂
Video : Zannalee
Vol
Comp (threshold)
Inside the box, little Trimmer adjusts the sensitivity of the opto cells to guitar pickups (humbuckers for ex.).
Specs : AOP, Optocoupleurs – True Bypass – 9 volt (10mA) – (11 x 6 x 5) cm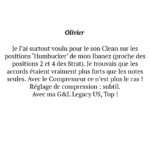 Boutique Pedals for Guitar & Bass - Handmade in France

Comment (leave us your first name)