The Klon Centaur !
Tested by Guitare Xtreme (num 90)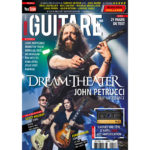 Originally developed by Bill Finnegan and some MIT engineers in the beginning of the 90′.
One of the innovative characteristics of that period was the mix of the guitar's clean sound and the 'driven' sound generated by theson clean' de la guitare et 'son drive' généré par l'effet, à base de Germanium-diode effect Germanium. The balance was obtained with a double Gain.
The charge pump (device enabling the transformation of power supply) sends different voltage values to the amplification circuits.
Today, an original Klon Centaur is considered as a collector's item and can fetch up to several thousand euros.
Videos : Overdrive Family, Sébastien Israel
Vol
Gain
Tone
Options
Clip (Germanium or Silicon 'clipping' diodes)
Fat (Low Mid Boost)
Specs : AOP – Germanium Diodes – True Bypass – 9 volt (20mA) – (10 x 10 x 6) cm
Boutique Pedals for Guitar & Bass - Handmade in France

Comment (leave us your first name)