Tone Maker, what else ?
Tested by Guitare Xtreme (num 95)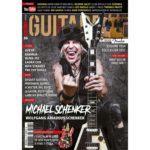 Derived from the Dallas Rangemaster Treble Booster, with a slightly different approach and more modern components.
Préamp, Booster, from Clean to Crunch, a true Swiss Army knife !
And as if this wasn't enough, use the 2nd channel's optional Boost .
Videos : Mick Ravassat, Jeff
Vol
Filter (Low Cut filter)
Bias (act as Transistor Gain)
Boost (Channel 2 Vol)
Specs : Transistor & Diodes Silicium – True Bypass – 9 volt (5mA) – (11 x 6 x 5) cm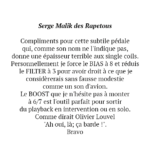 Boutique Pedals for Guitar & Bass - Handmade in France

Comment (leave us your first name)